Description
Gardens Beyond Spring Gate by Thomas Kinkade
Spring Gate  III, April 1998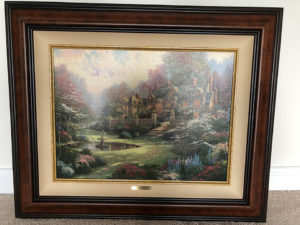 18 x 24 Artist Proof Canvas (sold out from Publisher). Framed in Burl.
This is a Limited Edition stretched, canvas lithograph that has been hand embellished. It is offered through our Collectors Exchange.
About the Art
All of us, I believe, carry a memory of Eden. Life began in that garden, and for me, many of the good things in life are still to be found in gardens. When I came upon the blooming Spring Gate, I accepted its invitation to explore—partly to satisfy a secret longing for the splendid gardens I expected to discover within. And, since this is a locale of the imagination, I haven't been disappointed. Once you have entered, the gentle fragrant breezes and the calming trickle of water will keep you wandering endlessly. What could possibly be closer to paradise?
-Thomas Kinkade