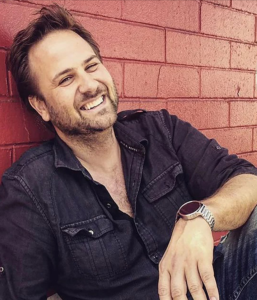 Mulligan
James C. Mulligan was born in 1978 in Rancho Palos Verdes, California. He grew up in Los Angeles and Orange County, California, where he attended High School at Capistrano Valley Christian School and the South Orange County High School of the Arts. He is an Irish American artist and actor best known for painting celebrity fine art and commercial murals. He has three brothers, Peter, Sam and Michael.
While James Mulligan was attending the University of California, Los Angeles, as a theatre major, he was hired to work in the art department of the Walt Disney Company. His projects there include concept design for both characters and theme park shows and attractions. Mulligan now spends a great deal of his time creating fine art for icons such as the Elvis Presley estate, Chuck Jones characters, Disney, Buck Rogers, and Tarzan. His solo shows at Planet Hollywood, the Aria and Bellagio properties broke all records for sales for a solo artist. His work is widely sought by celebrities, and his work resides in the collections of stars such as Oscar Winner Richard M Sherman (composer, Mary Poppins), Fred Durst of Limp Bizkit, the Presley family, Holly Madison, Hugh Hefner, Neil Patrick Harris, Chuck Liddell, and many others. He had the privilege of creating the art direction for Playboy's 2011 spread for Playmate of the Year. He has also been involved with creating a series of fine art pieces for ZORRO, the Broadway Musical, debuting 2012.
As a child, Mulligan acted in several elementary and high school plays. He had come off the national tour of OLIVER! with Andrea McArdle when he was invited to audition for Saved by The Bell, The New Class. He won the pilot, which spurred a number of television appearances.
On stage, his appearances include Jekyll & Hyde, Les Miserables, Miss Saigon, and South Pacific with Reba McEntire.
In June, 2009 Mulligan filmed a pilot of his own reality series, The Muralist in Miami for the Fox Network
Mulligan currently lives in California, and spends much of his time along the coast, as well as in Las Vegas.