James Coleman Biography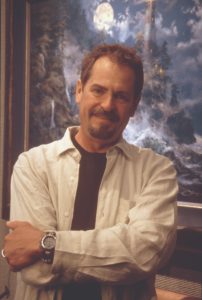 James Coleman was born in 1949 in Hollywood, California. He began his art career painting background scenes and art directing for some of Walt Disney's most beloved films – The Little Mermaid, Beauty and the Beast, The Fox and the Hound, Mickey's Christmas Carol and more. A master of color, light and design, James Coleman is now one of the most collected and sought-after artists around the world. His art illuminates the world with vibrant colors, gentle moods, powerful design and exquisite detail.
He got his first job at Disney Studios, in the mailroom, through his mother, who was a secretary there. His big break came when he entered a painting in the Disney Studio Art Show which resulted in his first job as a background painter on Disney's The Rescuers.
Coleman's career took off after that:
"This was a major event for me. At first, I didn't realize just how major it was. But it literally changed my life. I had no idea what it would lead to."
It led to a career spanning nearly three decades and more than 25 films. But Coleman's true passion always laid in Fine Art, and he eventually left Disney in order to pursue this field full-time. He likens this life changing decision to a window needing to be opened:
"Windows can be intimidating because you don't know what's out there. But once you step through it, you're faced with this enormous amount of possibility. I never liked looking at windows directly, because once I see one, I have to go through it."
However, Coleman did not stay away from Disney for too long. Eventually he found himself mixing fine art with the Disney characters he had worked with for so many years.
James is talented across many mediums and works in oil, watercolor, gouache pastel and metal leafing. His work is impressionistic and luminous and his art intrigues the eyes and touches the heart. His paintings, found in many fine, personal and corporate collections, are warm, inviting and unique.