Betsy Becher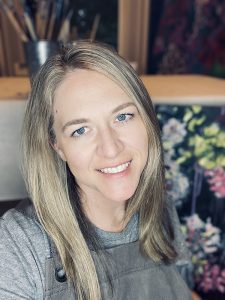 View Artwork Here
Betsy is an abstract artist located in Carmel, Indiana. Working with deeply saturated colors, she fuses an array of textures with bold brush strokes to build up layers of paint. Mark-making and acrylic paint pens enhance the compositions resulting in flower-like shapes that meander across the canvas. Betsy pulls inspiration from visual memories of her surroundings. From Indiana summers, to the darkness of chilled winters, Betsy's work explores the contrast between light and dark. She looks to communicate everyday emotions through art and color.
Looking to combine her love of the arts with a professional career, Betsy studied Interior Design at Indiana University in Bloomington, Indiana. After college, Betsy worked in a custom rug showroom in the Merchandise Mart in Chicago. She was fortunate to spend time in an iconic building that thrived on the visual arts. Upon moving home to Indiana, Betsy worked for many years in commercial interior design with a focus on corporate and healthcare offices. The design industry fostered her passion for color theory and exposed her to a wide array of materials, textures, and finishes. Throughout her design career, she turned to painting as a hobby.
After having children, Betsy stepped away from the design industry to focus on her family. While raising children, Betsy found painting was a consistent way to fuel her desire to create. As the years passed, her home studio grew from a small desk in the basement to a dedicated room filled with natural light.
In January of 2022, She made a commitment to pursue her love for painting as more than just a hobby. In March of 2022, Betsy took part in Level Up with Mati Rose McDonough, a three month artist mentoring program to outline clear and distinct goals to grow from a hobby artist to a career artist.
Betsy has participated in numerous group exhibits, won a Best of Show award and continues to establish herself as a professional artist.