Heather Haynes
View Artwork Here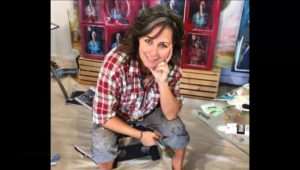 Heather Haynes describes herself as a contemporary folk impressionist. Her unique style draws inspiration from nature and everyday objects. The paintings have a loose, stylized feel infused with the intriguing sense of a timeless peace.
In life as in her art Haynes is at heart a happy fatalist. "What happens is meant to happen," she says. "Painting is about taking chances and trusting your instincts; you shouldn't think too much."
Technique
Haynes' paintings are process driven and her imagery depends heavily on her technique. She uses acrylics and various glazes, often integrating stenciled forms and subtle texting. Building up the paintings in layers that refer to her themes of dualities juxtaposing inside and out.
Her use of lace imagery adds an interior element, reminiscent of old curtains and wallpaper. The subtle writing adds another deep interior dimension, quoting her grandfather, urging her to believe in her dreams.
The fields and trees exist on the outside in a mysterious landscape. A place the viewer is invited to journey into.
The entire composition is finished with a thick, clear glaze sealing all the elements together.
About
Heather Haynes lives in a refurbished old schoolhouse in the picturesque Thousand Islands district of Ontario, Canada. Along with her husband and their two sons she enjoys all the pleasures of country living.
As a child a visual disorder impaired her reading and schoolwork suffered. Surprisingly Haynes excelled in art class and the subject became her heartfelt focus. Her parents were supportive of her love of art and after high school she enrolled in the visual arts program at McMaster University in Hamilton, Ontario.
Haynes was determined to be a visual artist and avoid an academic career. She began selling funky hats and little paintings at a local market. The paintings became increasingly popular and her husband's decision to purchase and renovate the old schoolhouse included the building of a fully equipped studio.