Emilija Pasagic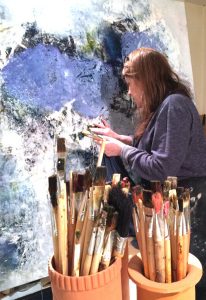 Emilija Pasagic is a native of Belgrade in the former Yugoslavia. As a child, Pasagic was always painting and drawing. A family friend, who was an established painter, nurtured her fascination with art allowing her to visit his studio and delight in all the art materials and works in progress.
Pasagic studied landscape architecture at Belgrade University, where she met her husband. After graduation, the two worked together as designers. As hostilities arose in the region during the early 90's the couple decided to immigrate to Canada where they settled in Ontario. The move to Canada sparked an artistic rejuvenation. She quickly became involved in the vibrant Toronto art scene, joining "The Scollard Street Artistic Cooperative" and VAO (Visual Arts Ontario).
Pasagic admires the works of many different artists but has a special appreciation for the works of Croatian painter Mersad Berber. She sees her artwork as a personal expression, an expression that is rooted in her love and fascination with people and their intricate relationships with each other. Pasagic works the surface of her paper and canvas with a variety of traditional and innovative techniques. Depending on her mood and what is available in her studio she can incorporate as many as a half dozen elements into each painting. Her technique involves a unique blending of bee's wax and oil paint applied to paper, board or canvas. In this contemporary application of the ancient technique of encaustic, the paint is sometimes blended into the hot wax, burnt into it or simply painted upon it. She often fuses paper and cloth into the pigments to create textures, and uses gold leaf and various gel mediums to add unique, antique effects. The paintings take on depth and mystery with a balanced tension between texture and form.
Today, Pasagic works out of her home studio in Ontario. She is represented in select galleries throughout Canada, Great Britain and the USA.