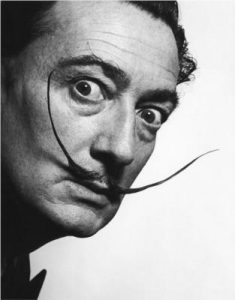 Salvador Dali (May, 11, 1904 – January 23, 1989) was born Salvador Domingo Felipe Jacinto i Domėnch in Figueres, Catalonia, Spain. His magnificent repertoire spanned over six decades and encompassed drawings, paintings, printmaking, film, sculpturetapestry and photography in various media.
Highly imaginative, Dali indulged in grandiose, peculiar behavior, often times beyond that exhibited by his contemporaries of the counter-establishment Surrealist movement.  Technically skilled, Dali created dream-like, bizarre images and is credited for ushering in a new generation of imaginative expression that arguably took Surrealism to a new level.
Dali is one of the world's most celebrated and iconic figures of the art world perhaps due to, or in spite of, his personality and eccentricities. He was raised to believe he was the reincarnation of his dead brother (who had died nine months prior to Dali's birth), and was given his same name, that was also his father's. Imagery of this dead brother permeated many of Dali's works throughout his lifetime.
Dali's style is mostly identified with Surrealism, but his influences included many techniques from Dadaism, Cubism and some of the most avant-garde to the classical studies of Vermeer and Velazquez, the latter who, incidentally, inspired his famous, flamboyant moustache. He used both these modernist and classical techniques, sometimes in the same creation.
Dali credits his wife, and muse, Gala for saving him from insanity and at a certain point in his career, frequently signed some of his works with Gala-Dali. Perhaps his most celebrated painting was created in the early years of their relationship, The Persistence of Time, melting watches that imply time as fluid.
Timothy Leary, the so-called 'father' of LSD was to have said "Dali is the only painter of LSD without LSD." Dali considered this a compliment and "normal for the one who tries to capture with the most exacting fury of precision, the imagery of concrete irrationality." (Dali by Dali)
In 1934 Dali met Pierre Argillet with whom he began a collaboration that spanned five decades. They created the Dali Argillet Collection that art historians have termed "the finest bodies of the Master's Art." Argillet became a lifelong friend, confidante and owner of a prominent collection in Dali's legacy.
In 1982, the title Marques de Dali de Pubol was bestowed upon Dali by King Juan Carlos.
For additional information: https://en.wikipedia.org/wiki/Salvador_Dal%C3%AD; http://www.biography.com/people/salvador-dal-40389
Pierre Argillet Collection
Salvador Dali was one of the most brilliantly provocative artists of the twentieth century, working in Spain, France and the United States. His genius is captured in original lithography through his collaboration with Publisher Pierre Argillet who became a confidante and lifelong friend after their meeting in 1934.
Pierre Argillet was an avid collector of works by Futurists, Dadaists and Surrealists, meeting with the major artists of the 20th century. Argillet commissioned Dali to illustrate: Greek Mythology; Hippies;  Poems by Ronsard; Secret Poems by Guillaume Apollinaire – 1967; Poems by Mao Tse Tung; The Venus in Fur by Sacher Masoch; and Faust of Goethe.
Dali's delirious vision led to a long and fruitful collaboration between artist and publisher resulting in almost 200 etchings. A few of these include:
la Mythologie (16 planches), le Christ, Sainte-Anne, l'Incantation
Dali reworked 7 pieces of the Bullfight set by Picasso, reinterpreting the works of his fellow Catalonian by giving them the Dali touch – macabre, yet humorous, overlays (1966)
Using rubies and diamonds as engraving tools, Dali illustrated La Nuit de Walpurgis of Faust (21 pieces, 1968) resulting in an incomparable delicacy to the design
Poemes of Ronsard (18 pieces, 1968)
Apollinaire (18 pieces, 1968)
Venus a la fourrure after Sacher Masoch (20 pieces, 1969)
Suites of Don Juan (3 pieces, 1970-71)
Hippies (11 pieces, 1970-71)
In 1974, artist and publisher parted ways because Pierre Argillet would only accept etchings done in the traditional way, on copper, and refused to go along with Dali's desire to make photo-based lithographs. Using this process, Dali went on to produce a large number of works that appealed to a more widespread audience than ever before, but they were also subject to more criticism.
The Pierre Argillet Collection demonstrates high standards of quality, and the impassioned collaboration between the artist and his publisher. This ensemble of works has appeared in the best-known museums in the world:  Musée Boymans, Rotterdam 1971; Musée Pushkin, Moscou, 1988; Reynolds-Morse Foundation, St Petersburg, Florida; Kunsthaus, Zürich and Staatsgalerie, Stuttgart 1989; Isetan Museum of Art in Tokyo, Daimaru Art Museum, Osaka and the Hiroshima Prefectural Museum of Art, Japan, 1990.
This collection's permanent home is at the Museum of Surealism in Melun, France and the Dali Museum in Figueras, Spain.
Madame Christine Argillet
Christine Argillet is the daughter of Pierre Argillet and has fond recollections of the 30-year collaboration and 50-year relationship her father had with his close friend, Salvador Dali. The young Argillet recounts an early visit to Dali's home. Her parents tell her to sit quietly, but Dali sends her on a scavenger hunt around his labyrinthine home to find candies inside his crystal jars. She discovered huge candies, the size of eggs, wrapped in shiny papers. Obediently, she brought them down to the beach, as Dali instructed, lined them up and suddenly, they went off, boom, boom, boom – infuriating the fishermen. They weren't candies at all, but cherry bombs. Mme Argillet chuckles as she recounts the experiences with the prankster Dali, an affable, if temperamental, 'mischievous uncle.'
Argillet pays homage to her father's wish of showing the Dali Argillet Collection "in places where they are unexpected."