Trevor Carlton Biography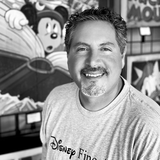 Monte Trevor Carlton was born in 1972 in Olympia, Washington. While he painted throughout high school, his first artistic passion was acting. Although he was offered an art scholarship, Trevor decided to pursue his dream of becoming an actor and moved to Los Angeles to attend the prestigious Lee Strasberg Acting Workshop.
Amidst the chaos of auditions and callbacks, Trevor paid the bills by working in a custom furniture store, specializing in antiquing and faux finish designs.  It was here that a style was born. Using reclaimed lumber as his canvas, Trevor started painting images of vintage Americana with subjects ranging from iconic celebrities to the famous Blues greats.
Using wood, albeit an unorthodox substrate, lent itself well to Trevor's need to push the envelope and explore new avenues of artistic expression.  Soon he was perfecting his signature distressed style by painting a raw canvas to create the appearance of wood and then using solvents and sandpaper to give the piece an overall "distressed" look.
After numerous gallery shows in Los Angeles and private commissions, he has now combined his unique style to that most American of symbols, Mickey Mouse. Along with a series of classic lobby card paintings, he has also created a performance piece that is equal parts rock star and painter.  Trevor has had the amazing opportunity of performing this show and exhibiting his artwork all throughout the United States, Japan and the United Kingdom.
In 2009, staying true to his experimental nature, Trevor Carlton created a bold new statement with his "American Vintage Collection."  These amazing, hand-crafted works, feature hand-applied, hand-distress canvas appliqués on hand-painted, original backgrounds. This ground breaking fusion of original artwork and state-of-the-art print creation, makes this collection one of the most unique and exciting additions to Trevor Carlton's art portfolio to date.