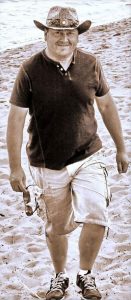 NEMO
Nemo's work today is focused on the beauty and excitement of new places. His distinctive images draw together the charm and mood of several famous cities juxtaposed to create a dreamlike memory of time and space in a fascinating combination of mixed media.
Victor Colesnicenco (NEMO) grew up in Chisinau, the capital city of Moldova. This Eastern European nation is known for its rich artistic heritage. Nemo, as he is known to his friends, remembers being fascinated by the carvings and other crafts that surrounded him. In particular, he loved paintings and from an early age he was determined to become an artist.
Nemo began intensely inquiring into the style and techniques of the famous painters and formed a particular interest in the work of the Surrealists. He enrolled in art school but did not enjoy the strict academic style of the Russian based academy. He abandoned his traditional training in favor of practical experience. His talent flourished, and soon, he was organizing large outdoor art fairs to show his work and that of other young artists.
As required, Nemo served in the Soviet Army for two years. After completing his tour of duty he returned to his artistic career, and together with a good friend he started a successful business restoring works of art and painting murals.
Nemo's artistic passion ignites in landscapes, particularly cityscapes, although he does periodically lend his hand to still life and more recently, portraiture. His prevailing themes continue to be of travel and discovery. His excitement exudes in the beauty of discovering new cities and will often combine major landmarks from all over the globe in a single creation.
The ever increasing freedom in their country inspired the desire to travel to many cities, and Nemo and his family moved to Canada. They settled in Niagara Falls and Nemo felt that he was at a gateway to the world. Nemo's work is widely collected and is represented in galleries throughout Canada, USA and other countries.