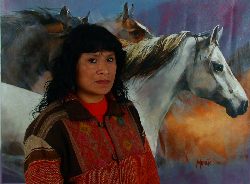 Gladys Morante was born in Peru in 1963, the daughter of a professional jockey. She grew contemptuous of her father because of his absolute dedication to horses and anything related to them. However, by the age of fourteen, her attitude completely reversed and the horse became the center of her life. She even attempted a career as a jockey herself.
With no clear direction after high school, she met a horse portrait artist with whom she began working with. This proved to be the start of an important and long-lasting friendship. After first assisting him in his work, she eventually began contributing directly through the application of under painting. Realizing Gladys's potential, her new-found mentor advised her to join the School of Arts, which she did, graduating with honors.
Morante has participated in numerous exhibitions including several held at prestigious locations such as the Embassy of Spain, the United States Embassy, El Museo de la Nacion, Galeria Borkas and the Russian Cultural Institute.