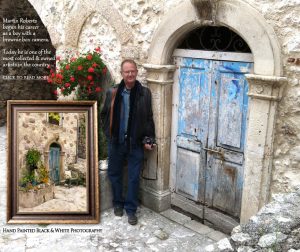 Martin Roberts began his artistic career as a boy with a brownie box camera. Today, he is one of the most collected and "owned" artists in the country, with people seeing his works in such spectacular settings as the Venetian and Bellagio Resorts or in simple stores of main streets across America.
Martin's work is visually appealing with a detail unimaginable because he is a mixed-media artist. His work is collected as a fine art paintings, which in fact they are…but they have all started with extraordinary black and white photographs over which he layers acrylics, watercolors, and oil paints. The result is exquisite, three dimensional, extremely informal and relaxing, with cascading flowers, foliage and textured colored walls.
Mediterranean, Provence and Tuscany subjects are his specialization with series featuring Venice and Rustic English Cottages as well. One of his most well known pieces entitled "Cardinal at the Vatican" was produced for Cardinal Hamer of the Vatican. His exhibitions have included the Leica Gallery in Manhattan; a distinction so rarely given to American artists.
"I want to create a work of art with a composition so compelling that my collectors say that this is something that they must own. Not because of the financial rewards it brings me, which in fact is nice…but it is so extremely flattering that people whom I have never met have my work hanging in their homes."