We are excited to welcome Robert Finale and his lovely wife, Susie, back to Zionsville, Indiana.
Robert Finale has graciously created some brand new original paintings just for this special fall show in Zionsville. The Lincoln Park Gazebo, a popular pocket park in the charming village of Zionsville, is no stranger to hosting weddings, concerts and other special events. Adorned in spring finery, Finale showcases the spring blooms we love to enjoy in the park.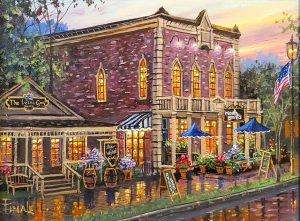 The very popular Wine Guy at the Grapevine Cottage is another feature, along with the neighboring Noah Grant's, both Zionsville favorites and staples. Come on in to meet Robert and Susie and see some of the newest,  wonderful paintings that Robert has painted.
Click here for more about the event