Description
Rotary Club, Original Sketch by Thomas Kinkade
Image Sixe: 11″ x 8 1/2″. Framed Size: 21″ x 18.5″. Framed Original Sketch
Rotary Club, an original pencil sketch by Thomas Kinkade is an extremely rare work by perhaps the most famous artist of the turn of the century. This largely unknown work by Kinkade was his study for a commission by the Rotary Club in Sacramento, California in his early years.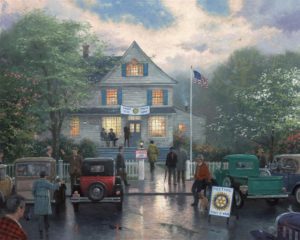 The painted commission, The Rotary Club Meeting viewed on the left.
Known for his romantic realism style of painting, Thomas Kinkade was masterful in many genres. This example of a typical Plein Air painting was a frequent style for Thom. He so enjoyed painting in a variety of styles that he was also known to have painted under a number of different 'brush' names or aliases, the most known of which was Robert Girrard, chosen to represent the French Impressionist style.
CV Art and Frame has access to a comprehensive collection of artwork by this artist. For additional details, please contact us at phone #: 317-873-2976 or email: info@cvartandframe.com