Description
The Charlie Brown and Snoopy Show by Bill Melendez
SN-507-38.042.02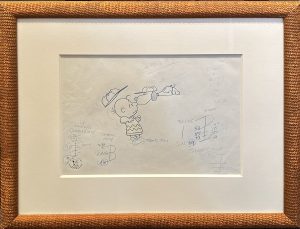 Custom Framed Limited Edition Production Cel with original drawing. The set includes two original production cels and a background print framed in one package along with an original proof drawing in a separate framed package.
Image Size: approx 10″ x 12″. Framed Size: 17.5″ x 20.25″ for both the Cels and the Drawing.
About the Art
These original production cels along with the original proof drawing were used in the creation of the Charlie Brown and Snoopy Show. They feature the lovable star, Charlie Brown and his clever, beloved do, Snoopy. Snoopy is laying on his iconic doghouse while giving the surprised Charlie Brown a sweet kiss on the nose.
CV Art and Frame has access to a comprehensive collection of artwork featuring the Peanuts characters from the studio founded by Bill Mendez. For additional details, please contact us at phone #: 317-873-2976 or email: info@cvartandframe.com