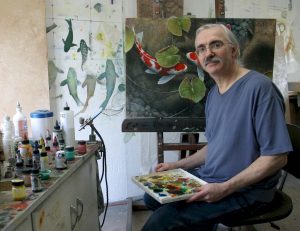 Terry Gilecki
Terry Gilecki creates beautiful paintings of koi that transport the viewer to a world of quiet reflections. Gazing down into their watery realms, the stresses of the day drop away as we take in the glow of the golden stones and the fronds floating lazily as the colorful koi fish glide by. Gilecki brings over 35 years of experience as a professional artist to his meticulously rendered waterscapes. Born in British Columbia in 1954, Terry earned a degree in commercial art in 1973 and embarked on a successful career as a professional artist working for international advertising corporations. Like most commercial artists, Terry also pursued fine art in his private hours.
"Well into my career as an artist, I was fortunate to discover the pleasure and challenge of painting koi and the world they live in," says artist Terry Gilecki. "Koi seem to possess an uncanny ability to cast a sense of calm and tranquility for anyone taking the time to observe them. I consider it a gift to those who wish to find a little more peace and clarity in their lives. We know this meditative state of mind encourages clear and creative thinking, and may help us to discover that even the most humble inhabitants of our planet have important lessons to teach us in regard to our own evolution, diversity and survival as a species."
Gilecki's koi paintings are created with an array of reactive and texture mediums, layered with translucent color and finished with highly realistic renderings of water plants and the brilliant colors of the different varieties of koi. This combination of techniques results in an incredible sense of depth and motion. The viewer gazing into a Terry Gilecki painting shares the same sense of calm reverie they might enjoy while sitting by an actual koi pond—the artist's gift to his collectors.
The artist lives and works at his home in Canada. His art is widely exhibited and collected throughout the U.S. and Canada.