Help Me With My Memories I by Nechita
$24,990.00
20 x 16 Acrylic on Gallery Wrapped Canvas
Description
Help Me With My Memories I by Alexandra Nechita
20″ x 16″ Original Acrylic on Canvas. Gallery Wrapped. 2020.
Alexandra Nechita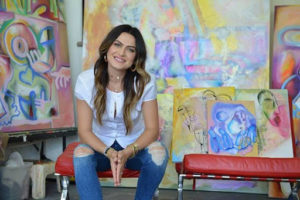 Alexandra Nechita (born August 27, 1985) is a Romanian-American cubist artist and philanthropist. She achieved world-wide fame and recognition when she was dubbed the "Petite Picasso" by the media and the art community as a young child prodigy. Her natural, early talent was quickly recognized and widely acclaimed beginning with her first solo exhibition at eight years old.
Hailed as a true artistic force, Nechita continues her legacy with her new Collection entitled "Re: Imagined".
History
Nechita immigrated to the United States at one and a half years old. She began drawing as a toddler. At seven she was working with oil paints and acrylics and by eight years of age, she held her first solo exhibition at a local Los Angeles Library. Alexandra exploded onto the art scene at the age of nine. Her talent was instantly recognized as crowds came to see her often monumental paintings. Art critics and the media began telling the world about this rarest of child prodigies – a master of line and color – an artist with a visual language of her own.
That visual language has been unfolding over the last several years, resulting in an extraordinary new body of work that began touring North America in 2019. These works represent the years and growth between her time as a celebrated prodigy and the now mature Artist who sees the world through a different lens; while still capturing elements that made her a force in the Art World.
Her work has always reflected an expression of personal sentiments- that intimacy and storytelling continues to be the prism through which she navigates her creative vocabulary. This new work is the perfect embodiment of who she is, as it comprehensively encompasses her growth and transitions, both as a woman, a mother and simply a humanist on a profound and endless search for her greater purpose.
Alexandra's work has been displayed globally, including exhibitions in Romania, Switzerland, Netherlands, Italy, France, England, Singapore, Japan and New Zealand. Her art sits in the permanent collections of museums throughout the world, including the Vatican Collection in Rome and The Rock and Roll Hall of Fame in Cleveland. Alexandra's work is also in the private collections of A-List celebrities, including Oprah Winfrey, Debra Messing, Alec Baldwin, Paul Stanley, Calvin Klein, Whoopi Goldberg and David Letterman.
SELECTED PUBLIC COLLECTIONS
Petit Palais Museum, Geneva, Switzerland
Tennessee State Museum, Nashville, Tennessee
Lowe Art Museum, Coral Gables, Florida
Bowers Museum, Santa Ana, California
Alexander Brest Museum, Jacksonville, Florida
The Special Olympics Collection, Washington, D.C.
Embassies: London, The Hague, Rome, Paris, Geneva
Downey Museum of Art, Downey, California
Imperial Collection, His Majesty Emperor Akihito, Tokyo
Florida International University Art Museum, Miami, Florida
International Children's Art Museum, Geneva
Museum of Contemporary Art, Lake Worth, Florida
National Academy of Recording Arts & Science, Los Angeles, California
Pensacola Museum of Art, Pensacola, Florida
Coral Springs Museum of Art, Florida
Rock and Roll Hall of Fame, Cleveland, Ohio
Vatican Collection, Rome
National Museum of Art, Romania
City of Vallauris, France
Beverly Hills Cancer Center- Beverly Hills
Ville de Meudon- Musee D'art et D'Histore- France
National Museum of Singapore