The Grinch Reflections Suite by Dr. Seuss

In December of 1956, an early morning post-Christmas reflection revealed one of the most enduring Dr. Seuss legacies while also shining light on the power of self-reflection in our own lives.
"I was brushing my teeth on the morning of the 26th of last December when I noted a very Grinch-ish countenance in the mirror.
It was Seuss! So, I wrote the story about my sour friend, The Grinch, to see if I could rediscover something about Christmas that obviously I'd lost."
— Ted Geisel (aka Dr. Seuss), 1956
The Grinch Reflections Suite
Fine Art Pigment Prints on Acid- Free Paper
Dimensions: 16"x 16" (each)
Limited Edition of 850 Arabic Numbers, 99 Patrons' Collection, 155 Collaborators' Proofs, 5 Hors d'Commerce, and 2 Printer's Proofs
Revealing truths are meant to provide the possibility of personal growth. When Ted acknowledged how he looked and felt. he then set himself on a course to search for new meaning and impact in his life. He did not shy away from what he saw, but instead embraced it. We are all richer for that decisions.
The same can be said of The Grinch. His reflection in the mirror was one of delirious pride. But later, upon true self-reflection, he realized that was not the way he wanted to live his life. His heart grew three sizes that day and his life was changed forever.
The Self Portraits of Ted Geisel
Self-portraits are often considered the most important aspect of an artist's output.  Understanding how an artist views himself gives us a unique  window into their psyche.  For example, one can recall Van Gogh's repeated looks at himself across his life and gain further insight into the various stages of his own self-reflection.
Ted Geisel made very few known self-portraits.  In each case, the vulnerability he reveals is uncanny.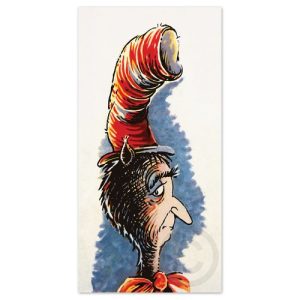 The Cat Behind The Hat portrays a self-conscious Ted and the way he physically perceives himself to the outside world.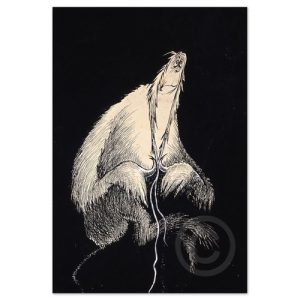 In Self Portrait of the Artist Worrying About His Next Book we see Ted as a classic Seussian character worrying if he will ever have another good idea on the heels of The Grinch and The Cat In The Hat.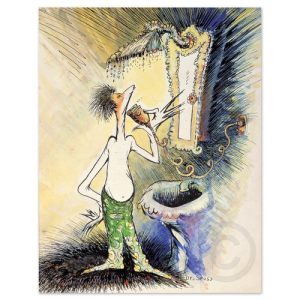 Self Portrait of a Young Man Shaving reveals a very personal moment, but also a critical one in the evolution of Ted's career.  He often spoke of his "shaving file" kept near his sink, ready for when a new idea would pop into his head as he stood shaving in the mirror.
In The Grinch Reflections Suite, we again see Ted's vulnerability and willingness to reveal himself to the world.
Order at the special Pre-Release Price HERE