Give the gift of ART this holiday season. It's the gift of a lifetime and more, cherished for generations. For the child in all of, choose Disney art, for young and old. CV Art and Frame represents Disney Fine Art artists as well as Thomas Kinkade Studios who create the most wonderful assortment of Disney inspired artwork.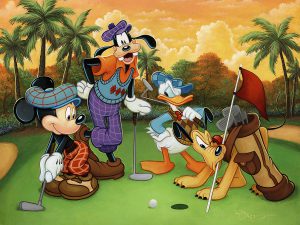 Mickey Mouse is the superstar with Minnie Mouse, Pluto, Goofy and Donald Duck. Those classic characters are joined by many more modern day Disney heroes like Mulan, The Incredibles, Stitch, Moana, Wall-E and more. And, of course, there are the popular princesses like Snow White, Belle, Rapunzel . . . and we cannot forget Simba, Winnie the Pooh, Dumbo and so many wonderful Disney creatures.
Walt would be proud.